Mental Health Awareness for Managers
Mental health awareness enables managers to foster a supportive work environment, effectively address employee well-being, and optimise productivity and overall team performance.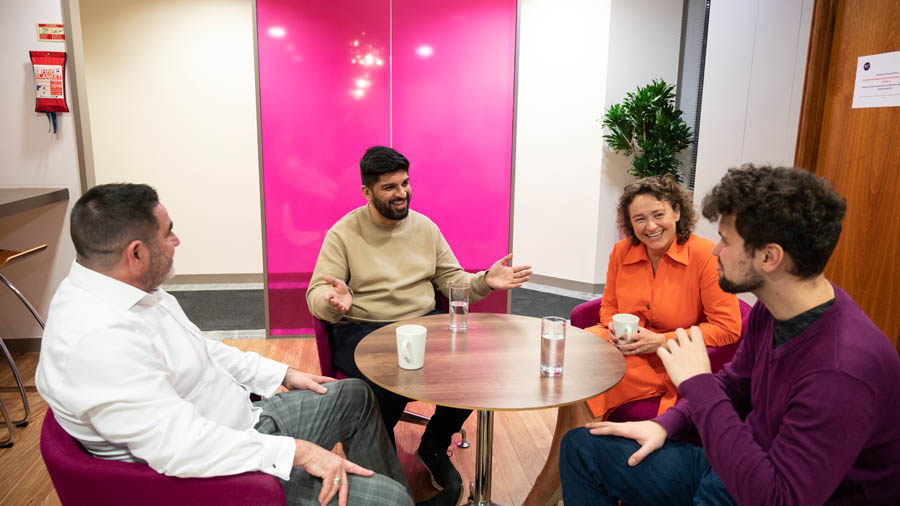 What is a Mental Health Awareness for Managers course?

The Mental Health Awareness for Managers course is designed to help leaders, managers, and supervisors who may encounter people in challenging situations. It provides the knowledge and tools needed to recognise signs of mental health problems, support individuals, and lead a resilient team.
This course includes discussions on stress factors and helps managers develop strategies for building supportive relationships and implementing stress management policies. It emphasises the benefits of trust, effective teamwork, conflict resolution, and a supportive work environment for both the business and staff.
Investing in training that includes mental health awareness in the workplace can improve employee engagement, reduce burnout and absenteeism, and enhance overall performance.
Why choose to train with us?
For more than 35 years, Red Cross Training has been providing training to businesses. With a focus on regulated training in the first aid industry and mental health training that was developed through real-world experience and expertise, we have established an excellent reputation, delivering valuable services and training to individuals and organisations throughout the UK.
This Mental Health Awareness for Managers course utilises the same framework we use to train our own teams, who through their work, are routinely supporting individuals facing hugely diverse challenges and difficult situations. This versatile framework can be utilised to support the wellbeing of your employees or team members.
Did you know:
The Red Cross has a global reputation in providing both emotional and practical support during crises.
By learning with the British Red Cross, you'll benefit from the expertise of our teams in supporting people in emotionally challenging situations.
The course content is based on the globally recognised CALMER psychosocial framework.
What topics are included on the course?
The introductory section of this course shares modules with our Wellbeing Support at Work course. This forms the foundations from which learners can build their skills in Mental Health Awareness for Managers.
1. Introduction to supporting others and yourself:
Understanding individual reactions to a difficult situation.
Understanding the impact of powerful emotions and ambiguous loss.
Recognising how the window of tolerance can help people thrive in everyday life.
2. Effective Communication and active listening:
Understanding the importance of effective communication in providing support.
Developing tools to build rapport and trust.
3. Identifying and responding to others' needs:
Understanding different personalities, cultures, and backgrounds.
Identifying the needs of others.
Developing effective responses, resources, and support strategies.
4. Stress awareness:
Understanding what stress is and how it can affect you.
Recognising your individual stress triggers.
Understanding different reactions to stress and how to recognise stress in the workplace.
Developing strategies and tools for coping with stress at work.
Using the British Red Cross CALMER framework to manage your own stress and support others experiencing stress.
5. Building resilience in the workplace:
Recognising the impact of stress and challenges within a team.
Understanding the importance of personal and team resilience when helping yourself and others.
Developing strategies for managing stress and building resilience.
Developing strategies for building trust and effective teamwork.
6. Leading a resilient team:
Understanding how team dynamics and workplace culture impacts resilience and wellbeing.
Understanding what makes a resilient person and team.
Developing skills and knowledge for leading a team.
Implementing strategies and tools for dealing with challenges successfully.
Using the British Red Cross CALMER framework to lead a resilient team.
7. Mental health awareness in the workplace:
It is important to note that learners are not expected to diagnose mental health problems following this course. The information covered on the course is to help managers to recognise someone may be struggling with their mental health so they can offer the proper support and signpost to an appropriate professional.
Understanding anxiety, depression or low mood.
Understanding psychosis including hearing voices, hallucinations and delusions.
Recognising challenging emotions and behaviours.
Understanding how to support mental health at work.
Supporting someone considering suicide or self-harm.
Managing a situation involving anger or aggression.
Using the CALMER Framework to help someone who is experiencing a crisis connected to a mental health problem.
Get in touch to find out more
What are the course delivery options?
The Mental Health Awareness for Managers training course is available to learners through two routes:
Face to face learning (1 day):
From £1,895 + VAT for group bookings of 6-24 learners at your place of work.
This involves students attending a physical course either in one of our training venues or at your own premises. Classroom based courses allow learners to interact face-to-face with their trainer and peers, helping build relationships and trust within a team. It typically involves group discussions, and practical activities to make the course interactive and engaging for all learning styles.
Virtual learning (1 day):
From £1,420 + VAT for group bookings of 6-20 learners.
Our virtual learning is a live online class, and includes all the interactive simulations, and discussions you would expect to find in classroom-based learning. Virtual learning offers a range of benefits, including increased flexibility, convenience, and accessibility for learners.
This style of learning is suitable for all, but is particularly useful if you have a team spread over a large geographical area
Get in touch to find out more
Learning and assessment
Assessment and certificate
This is not an assessed course. Learners will receive a certificate of learning after they have covered all the modules of the course and engaged in activities designed to help them develop the tools and resources they need to apply the skills in a real-life environment.
Entry Requirements
Suitable for all learners over the age of 16.
Mental health training can be emotionally challenging but our experienced trainers are skilled at helping individuals cope with any challenges that may arise during the training program. Some learners may experience unexpected emotions during the training as a result of past experiences. The course content is varied and may include relatable trauma or crisis experienced by some individuals.

If you, or your learners, have any concerns they wish to discuss prior to the course please get in touch with our team?
---
FAQs
What is the importance of mental health awareness?
The importance of mental health awareness is often underestimated, it is extremely beneficial for managers as it will give them the confidence they need to communicate more openly around mental health problems and offer the right support. Good mental health management can help:
promote employee wellbeing.
Improve productivity.
Improve absenteeism.
Improve the businesses professional reputation.
improve staff retention.
reduce mental health stigma.
fulfil legal and ethical responsibilities.
improve leadership skills.
and contribute to a positive organisational culture.
Resilience training for managers and prioritising mental health, can create a supportive work environment where employees can thrive.
Do employees have to tell their managers they have a mental health problem or condition?
No. Disclosing a mental health problem to a manager is a personal decision and not a requirement in most cases (unless it will impact their ability to carry out their job safely).

The stigma often associated with mental health means that people are often reluctant to voluntarily share mental health struggles with their workplace even though this information means they may get the right support.
By introducing a mental health at work strategy, or even just making small changes to create a workplace culture where mental health is openly discussed without negativity, can help people to open up and ask for help when they need it.
Will this training enable me to diagnose mental health problems in my team?
You don't have to diagnose or analyse anyone, but having awareness of underlying mental health factors can help you offer more supportive help. Mental health problems are often misunderstood, and the associated stigma can lead to discrimination. Understanding common conditions and their impact on individuals' daily lives can promote fair and respectful treatment.

One in four people will experience mental health problems in their lifetime so it is important to equip your team with the skills they need to be able to effectively manage situations they may face.