Fire Marshal training with online learning available
Fire Marshal training is available to learn online, virtual or in a face to face classroom environment, and is recognised by the Institution of Fire Engineers (IFE).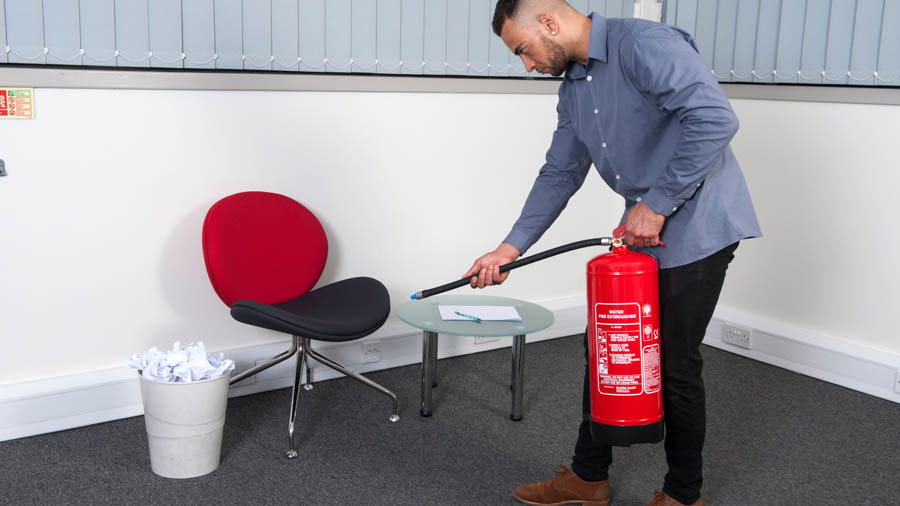 1/2 day or 2 hours online
Prices from:

£119* for face to face in classroom

Online learning available from £25* per person

* (excl. VAT)
Book an online Fire Marshal course and learn from today
Book on an online Fire Marshal training course and become a certified Fire Marshal as soon as today for only £25+ VAT per user.
What is a Fire Marshal training course? 
The Fire Marshal training course is designed to provide individuals with the knowledge and skills necessary to complete their role as an appointed Fire Marshal or Fire Warden.
Fires in the workplace can have devastating consequences, including loss of life, injuries, property damage, disruption of operations, financial losses, and long-term negative impacts on employees' physical and mental well-being.
A Fire Marshal is responsible for fire safety within a building or premises and plays a critical role in ensuring the safety of occupants and minimising the risk of fires. The exact responsibilities may vary depending on the organisation and industry. However, properly trained Fire Marshals can promote fire safety, protect lives, and assist with emergency preparedness and response in relation to fires.
What are the course delivery options for Fire Marshal?
The Fire Marshal training course is available to learners through three routes:
Fire Marshal - Online (2 hours)
The online Fire Marshal course takes place entirely over the internet. Learners can access the course materials through our learning management system at their own convenience, making this the most versatile and flexible version of this course.
Online learning is a great choice for those that prefer to work through learning at their own pace and have limitations. Once booked, learners will receive enrolment details to log on to the online learning platform and can then proceed at their convenience.
Fire Marshal - Virtual (3.5 hour)
Our virtual learning is a live online class, and includes all the interactive simulations, and discussions you would expect to find in classroom-based learning. Virtual learning offers a range of benefits, including increased flexibility, convenience, and accessibility for learners. This style of learning is suitable for all, but is particularly useful if you have a team spread over a large geographical area.
Enquire about virtual learning
Fire Marshal - Face to Face (3.5 hour)
This involves students attending a physical course either in one of our training venues or at your own premises. Classroom based courses allow learners to interact face to face with their trainer and peers, it typically involves group discussions, and practical activities such as role play to make the course interactive and engaging for all learning styles. To choose a face to face classroom based course, please search for desired location at top of this page.
Why choose to train with us?
For more than 40 years, Red Cross Training has been providing training to businesses, with a focus on regulated training for the workplace such as first aid, Fire Marshal and mental health training.
The British Red Cross' Fire Marshal course utilises knowledge gained from years of experience supporting real world emergencies, and is accredited by the Institution of Fire Engineers (IFE).
Did you know that The British Red Cross have many emergency response partnerships around the UK, including with fire and rescue services, ambulance services and local authorities.
What topics are included on the course?
The course covers various aspects related to fire safety and prevention.
1. Fire safety legislation:
Understand the relevant laws and regulations relating to fire safety, including the responsibilities and duties of a Fire Marshal.
2. Fire behaviour and prevention:
Understand how fires start, spread, and behave in different environments.
Learn about the common causes of fires and methods for preventing them.
3. Fire risk assessment:
Understand how to conduct a fire risk assessment to identify potential hazards, evaluate risks, and implement appropriate control measures.
4. Fire safety planning:
Understand how to develop and implement basic fire safety plans.
Understand the importance of regular drills, inspections, and maintenance.
5. Evacuation procedures:
Develop an understanding of evacuation procedures, emergency escape routes, and assembly points.
Understand how to conduct effective evacuations, accounting for different scenarios and the needs of individuals with disabilities.
6. Fire safety systems and equipment:
Recognise the different types of fire detection and alarm systems, fire extinguishers, emergency lighting, fire blankets, and other fire safety equipment.
Understand how to safely use of fire equipment, including a fire blanket and fire extinguishers*
7. Communication and leadership:
Develop effective communication skills to relay information during emergencies and coordinate with other emergency services.
*Role play including the use of dummy fire extinguishers to allow learners to practise in the classroom environment.
Learning and assessment
Assessment and certificate
Upon successfully completing the course, learners will be awarded a British Red Cross Fire Marshal certificate that is officially recognised by the Institution for Fire Engineers. This certificate remains valid for a period of three years.
To provide extra assurance, for face to face training learners are continuously evaluated during the course through a variety of hands-on demonstrations, interactive question and answer sessions, quizzes, and engaging activities like roleplay. These activities are designed to guide and assist learners in gaining the necessary skills and ensure they can apply their knowledge safely within their workplace.
Entry requirements
Suitable for all learners over the age of 16.
On successful completion of this course, you will receive a Fire Marshal certificate which is valid for three years by the British Red Cross. This course is accredited by the Institution of Fire Engineers (IFE).
---
FAQs
Who are the Institute of Fire Engineers (IFE) and what do they do?

 
The Institute of Fire Engineers (IFE) is an international professional body dedicated to promoting excellence in fire safety, and related disciplines. It serves as a platform for fire professionals, researchers, educators, and practitioners to exchange knowledge, share best practices, and advance the field of fire engineering. 
The IFE also provides formal recognition status to training courses, educational programmes and training providers that meet their rigorous standards, which includes the Red Cross Training. 
How often do fire marshals need training?

 
Usually, a fire marshal or fire warden training certificate is valid for 3 years.  However, if you work in a higher risk environment you may want to complete Fire Marshal refresher training more frequently to ensure the skills stay up to date and ae easy to recall in an emergency. 
It is important for individuals to update their Fire Marshal certification to ensure they stay up to date with the latest knowledge, regulations, and best practices in fire safety and prevention.  
 
Will I get to practically use a fire extinguisher on the course?
If you are attending a face to face fire marshal course you will have a chance to use a dummy fire extinguisher as part of role play activities within the course.   
The fire extinguishers used in training do not eject water or foam, meaning the learners can get use to handling the extinguishers without the need for outdoor space which can make access to training more difficult. 
If you are completing Fire marshal training online or through our virtual classroom, you will still cover how to safely use firefighting equipment using instructional videos and content. 
Is there a difference between Fire Marshal and Fire Warden training courses?
For many training providers the terms are interchangeable.  However, some state that Fire Marshals may have a broader scope of responsibilities and authority in managing fire safety across an organisation whereas Fire Wardens often focus more on implementing fire safety measures within specific areas or departments.  
The specific duties and training requirements may vary depending on the organisation making it important that you review the course content and make sure it is suitable for specific needs rather than rely on the role names.  Both roles play critical roles in fire safety and emergency response.