Manual Handling
Equip your team with the knowledge and techniques needed to safely lift, carry, and move objects. Benefits of training can include reduced risk of musculoskeletal injuries and back pain, as well as ensuring legal compliance.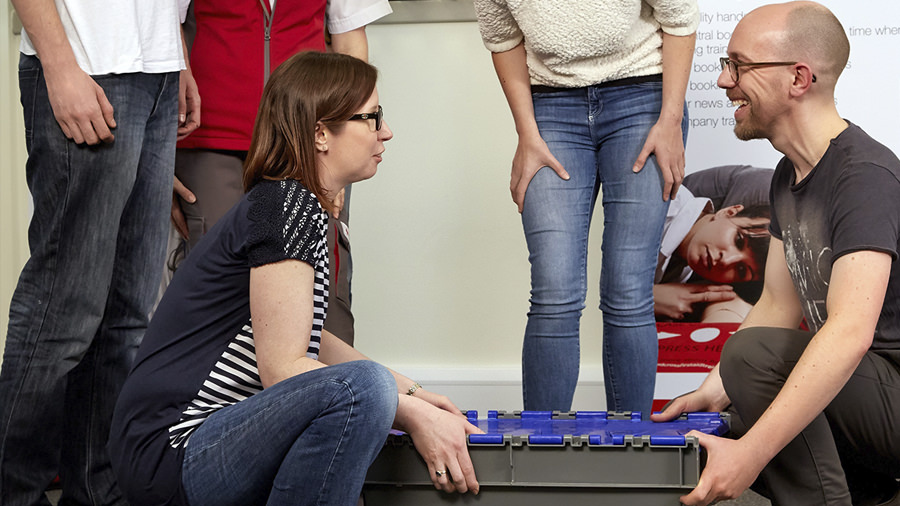 2.5 hours Group bookings only
Prices from:

£ POA

Moving and Handling certificate

Valid for three years
What is a Manual Handling training course?
Our Manual Handling course focuses on training individuals' and teams in the proper techniques for safely moving and handling objects, this includes low risk roles like working in an office, to higher risk roles such as manual labour, delivery driving and workers in a warehouse.
The goal of a Manual Handling training course, often called Moving and Handling training, is to educate individuals on best practices to reduce the risk of musculoskeletal injuries and promote safe and efficient movement in the workplace.
Why choose to train with us?
For more than 40 years, Red Cross Training has been providing training to businesses, with a focus on regulated training for the workplace such as first aid training.
Did you know:
The British Red Cross require all staff and volunteers to complete Manual Handling training as we recognise the value it has in preventing injuries. It isn't just about moving the big things, small repetitive movements also play a big part in injury statistics.
Poor manual handling accounts for more than one in five of all workplace injuries.
What topics are included on the course?
The course covers various aspects related to Manual Handling including:
1. Why do you need Manual Handling training?
Understanding what safe Manual Handling is.
Recognising the impact of poor Manual Handling, including common injuries, such as Impact to the employer and Impact to the individual.
2. Understanding your back:
Understanding the basic structure and functions of the spine.
Recognising how poor Manual Handling technique can result in back pain.
3. Safe Manual Handling:
Understanding how to assess the risk of moving a load.
Understanding how to safely move a load as an individual or as part of a team.
What are the course delivery options?
Face to face learning (3.5 hour)
This involves students attending a physical course either in one of our training venues or at your own premises. Classroom based courses allow learners to interact face-to-face with their trainer and peers, it typically involves group discussions, and practical activities such as role play to make the course interactive and engaging for all learning styles.
The Manual Handling course is a practical course and learners will be encouraged to take part in moving objects, bending and lifting safely. If you have concerns about anything that may be included in the course please contact us.
Learning and assessment
Assessment and certificate
To provide extra assurance, learners are encouraged to practice the skills covered during the course through a variety of hands-on roleplay, interactive question and answer sessions, quizzes, and other engaging activities. These activities are designed to guide and assist learners in gaining the necessary skills and ensure they can apply their knowledge safely within their workplace.
Upon successfully completing the course, learners will be awarded a Moving and Handling certificate that is valid for a period of three years.
Entry Requirements 
Suitable for all learners over the age of 16.
Although not essential, it is beneficial for learners to be able to take part in the practical application of the safe Manual Handling principles covered on the course.
---
FAQs
What do employers have to legally do to reduce the risk of manual handling injuries?
Employers have several legal obligations designed to reduce the risk of manual handling injuries. These include:
Avoiding hazardous manual handling.
Assessing the risk by identifying potential hazards, evaluating the likelihood of injury, and determining appropriate control measures.
Implementing control measures to minimise the risk of manual handling injuries.
Providing information and training as required.
Monitoring and reviewing the effectiveness of any control measures and review them periodically.
In short, the Manual Handling Operations Regulations require employers to avoid, assess and reduce the risk of injury from manual handling.
What is the difference between Manual Handling and Moving and Handling?
Manual Handling refers to the activities that involve lifting, carrying, pushing, pulling, or moving objects or loads by hand or bodily force. It includes a wide range of tasks, such as lifting boxes, pushing carts, or carrying heavy items. Manual handling training specifically addresses the safe and proper techniques for performing these tasks to minimize the risk of injury.
Moving and Handling training is a broader term that encompasses not only manual handling but may also include the safe movement and handling of people.
How often should Manual Handling training be updated?
Manual Handling certificates are valid for 3 years, but it may be useful to refresh your Manual Handling skills more frequently if you work in an environment where there is an increased risk of Manual Handling injury.