Emergency first aid at work course
The 1-day Emergency first aid at work (EFAW) course is ideal for those who need to be certified to be a first aider in lower-risk working environments. Book online today with UK wide dates available.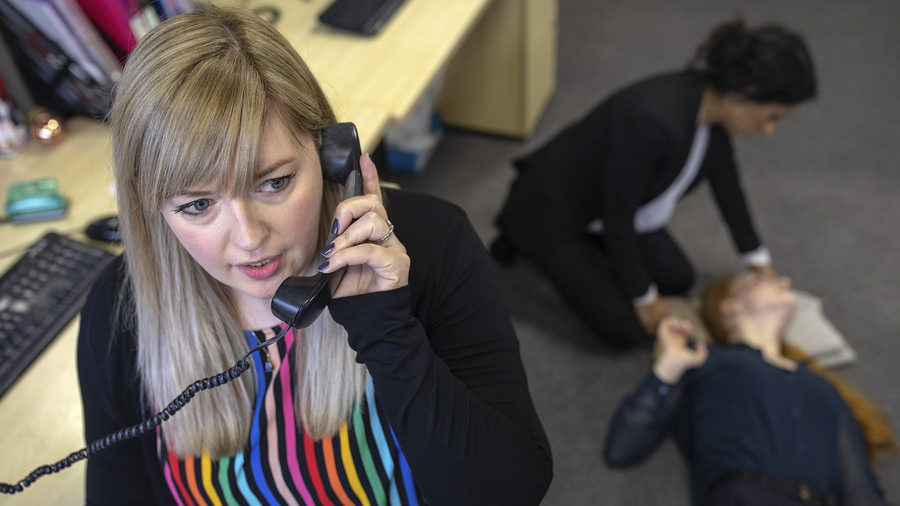 Prices from:

£165 *

Emergency first aid at work certificate

* (excl. VAT)
What is an Emergency first aid at work course?
Emergency first aid at work (EFAW) is a one day training course that is designed to provide first aiders with the knowledge and skills they need to respond effectively to emergency situations in the workplace.
Our Emergency first aid at work course:
meets the Health and Safety Executives requirements for first aid in the workplace 
is suitable for first aiders who require their initial EFAW certificate as well as those refreshing their qualification
is widely recognised as a level 2 first aid qualification.
The training covers a range of essential first aid skills that are suitable for low hazard workplaces such as offices, shops and call centres. The combination of skills will help first aiders to respond quickly and confidently to injuries and illnesses, as well as recognise when professional medical help is necessary.
If your needs assessment identifies a requirement for additional first aid training (e.g. due to having employees with a medical condition), we recommend the 3 day First aid at work course which teaches the skills to recognise and treat a wider range of injuries and medical conditions.
Why choose to train with us?
For more than 40 years, Red Cross Training has been providing training to businesses, with a focus on regulated training for the workplace such as first aid, fire marshal and mental health training.
The British Red Cross' Emergency first aid at work course utilises our expert knowledge gained from years of experience in the first aid industry, from training, to providing first aid cover for major events and supporting the NHS ambulance services.
Did you know that:
the British Red Cross are one of the recognised standard setters for first aid at work in the Health and Safety (first aid) regulation 1981 guidance
we are one of three authors of the current edition of the first-aid manual, which is recognised as one of the main sources for current first aid guidelines in the UK
we consistently meet customer requirements and enhance customer satisfaction as demonstrated by our ISO 9001:2015 accreditation; a globally recognised standard for quality management systems (QMS).
What does Emergency first aid at work cover?
Our Emergency first aid at work course ensures learners are able to understand, and where relevant, apply the following skills when helping an adult in the workplace. Learners will develop the skills and confidence to help someone who is:
unresponsive and not breathing, including how to use of an automated external defibrillator (AED)
unresponsive and breathing
having a seizure
choking
bleeding heavily
suffering from shock
suffering from a burn.
The course also includes information on:
assessing a casualty
monitoring a casualty
where to get help
electrical incidents
accident recording and reporting
the control of substances hazardous to health (COSHH).
Learning and assessment
How are learners assessed?
Learners are continuously evaluated during the course through a variety of hands-on demonstrations, interactive question and answer sessions, quizzes, and engaging activities like roleplay. These activities are designed to guide and assist learners in gaining the necessary skills and ensure they can apply their knowledge safely within their workplace.
How long is an Emergency first aid at work certificate valid for?
Upon successfully completing the course, learners will be awarded an Emergency first aid at work certificate from the British Red Cross. This qualification remains valid for a period of three years.
How long is the Emergency first aid at work course?
The HSE require learners to complete 6 hours of learning, not including breaks. Our courses usually run from 9.15 to 4.45 which includes a 1-hour lunch and 2 short 15min breaks. Learners are asked to arrive at the course at 9am to allow time for registration, late arrivals may be refused entry to the course.
Entry Requirements 
The role of a first aider can be physically and emotionally challenging. It is important you select individuals who you feel will be able to act quickly and effectively in a first aid emergency situation.
Learners will need to demonstrate their ability to use the skills covered on the course to receive the Emergency first aid at work qualification.
Suitable for learners over the age of 16.
FAQs
What does EFAW mean?
EFAW stands for Emergency first aid at work. This 1-day qualification is designed to give first aiders working in low-risk environments the skills they need to deal with a first aid emergency.
What is the difference between EFAW and FAW?
A 1-day Emergency first aid at work course is designed for first aiders working in small or low-risk environments. A 3-day First aid at work qualification is designed for larger or higher-risk environments and will include a wider range of illnesses and emergency situations.
What types of workplaces is this course suitable for?
Emergency first aid at work courses are suitable for environments where the first aid needs assessment hasn't identified any specific risks or illnesses. This 1-day course is ideal for small and/or low-risk environments such as shops and offices.
Is Emergency first aid at work a level 2 course?
The Emergency first aid at work course is often referred to as a level 2 qualification. This is because the length and complexity of the skills covered meet the requirements for a level 2 qualification on the Recognised Qualifications Framework (RQF).
Is this first aid course also suitable for people who are wanting to attain or renew their SIA license?
Yes, the Emergency first aid at work course meets all the criteria outlined by the Security Industry Authority (SIA) for those wishing to obtain or renew their SIA licence. However, If you have identified any specific risks that are not covered by this course, you may wish to complete the more comprehensive First aid at work 3-day course.