First aid training for groups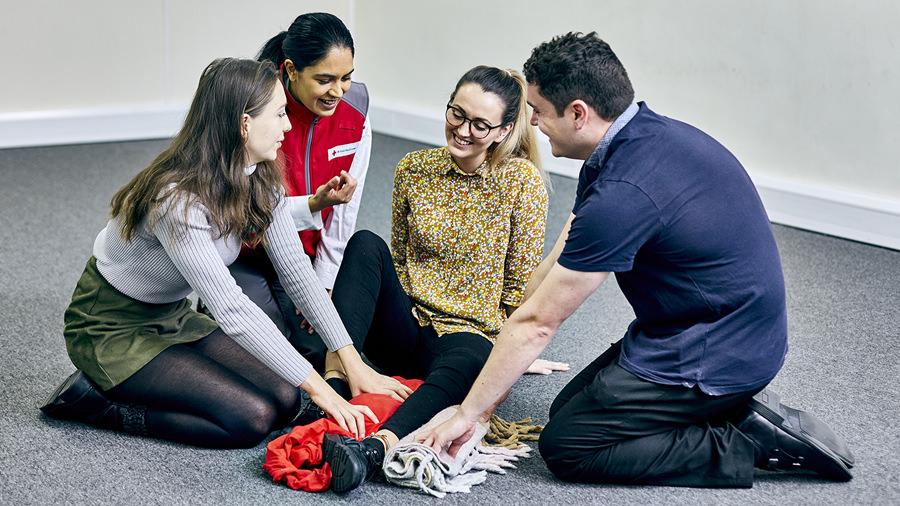 If you have a group of up to 12 people who need first aid or health and safety training, you could save time and money by booking as a group.
All our workplace and public courses can be delivered for your group at one of our training centres, or at another location to suit you – whether that's your office, in a community centre or at another venue you've arranged.
Benefits of group bookings include:
You save money compared to booking individually (savings depend on the course and size of the group)
You have greater flexibility to choose a time and place that suits you
A more personal approach; training with people you know helps create a relaxed environment, so you feel more comfortable taking part in the exercises.
Although the core content is the same as our scheduled courses, you have greater flexibility to spend more time on the topics most relevant to your group; for example if you have a colleague, friend or family member who has a medical condition, you might want to spend more time on the first aid techniques involved in treating that condition.
Group first aid / health and safety training for businesses
We offer a range of first aid and health and safety courses which can all be delivered in-house. We also offer a selection of onsite course and can even provide bespoke training tailored to your specific requirements as part of our Key Account management service.
Group first aid training for the general public
Learning first aid as a group on one of our public courses is a great idea for friends, families, community groups and sports clubs – in fact anyone who wants to learn first aid in a relaxed environment.
Young babies (up to the age of six months) are welcome on public group bookings at your venue only (however, we suggest arranging alternative childcare to aid concentration if possible).